History of Casino
Casinos have been welcoming gaming enthusiasts and holidays makers seeking fun, relaxation and excitement for centuries; but how did the casino come about? the first casinos Looking back into the history books it turns out that the earliest types of casino can be found in Italy. These early casinos originated as county homes or cottages where people met for parties. Certain rooms were dedicated for dancing, listening to music and gambling. Over time these establishments became more and more orientated towards providing an entertaining space and also become more focused towards the gambling side of entertainment.
By 1626, public gambling houses were legalized for the first time and offered the public a wide range of gambling pleasures. These places were great social spaces for the Venetians upper classes to socialize, they also used the "casini" to make business dealings and hold political meetings.
Many greeted the idea of an establishment dedicated to gambling and casinos began popping up all over Europe. By the 1650's many gambling establishments could be found in spa resorts, the most auspicious was the Spa in Belgium.
17th century gambling houses were booming and were becoming more official and organized. The aristocracy and bourgeoisie enjoyed spending a lot of time in casinos and they also liked to travel. It was no surprise that towards the latter end of the 17th century casinos were popping up in France and England, these thriving establishments were now catering for more and more people and were staying open longer and longer, increasing in popularity!
Another important date in the history of casinos is 1806; this is when Napoleon officially legalized casinos. Gambling had become a fashionable hobby for the rich and famous and the casinos provided a safe and secure environment to practice this popular past time. However now the casinos were getting selective and had to curtail the amount of visitors. This was done by only allowing selected clientele only the young, rich and beautiful were allowed and like many elite venues today, the casino was the place to be seen and anyone who's anyone is there.
In Germany, in 1837, Casinos were declared illegal; however out of this dramatic decision came two inventions that would change the casino industry forever: chips and the single zero roulette table.
The introduction of casinos would also prove to save a country. In 1860 Monaco was experiencing severe financial difficulties when one day a man called Francois Blanc decided to open a casino to bring some happiness to the people of Monaco. Three years later, a casino was opened and quickly Monaco's Monte Carlo became one of the most glamorous and famous gambling places on earth and remains so to this very day. From here many more casinos sprouted, upping the ante offering the wealthy tourists private gambling rooms where higher limits were introduced and with unlimited bets.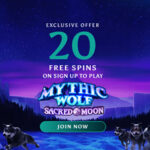 True Fortune Casino No Deposit Bonus Welcome USA players! Immerse yourself in the enchanting Mythic Wolf Sacred Moon slot at True Fortune Casino. Unlock the magic with our No Deposit…