There is no doubt that when it comes to choosing which online casinos to play, trustworthiness is one of the factors that most influences the decisions of both experienced players and those new to online gambling.
Understanding how gaming software in the virtual world replicates the random outcomes associated with live slot machines and roulette wheels is necessary if one hopes to enjoy a calm and relaxed gaming session.
Most players know that the random outcomes produced in online casinos are the result of its gaming software's random number generator algorithm – also known as the RNG algorithm.
But how does it work? The answer is quite simple.
The algorithm acts as a sort of counter. This counter contains a function that links an initial value (called "seed") with a specific sequence of numbers (the game outcome). The creation of "seeds" has two requirements: 1) they must be random; and 2) they must be able to be infinitely produced.
One of the most popular methods for creating seeds is using a computerized clock, which notes the starting time of the game (for example, the precise millisecond when a player presses the "Spin" button on a slot machine or the "distribute the cards" button in a round of blackjack). For each of the infinite number of milliseconds the counter may be started, a different final result will be reached.
In the event that the use of the computerized clock does not yield enough unique outcomes to qualify as random, an algorithm can be created for generating even more distinctive random numbers for the "seed" values.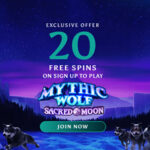 True Fortune Casino No Deposit Bonus Welcome USA players! Immerse yourself in the enchanting Mythic Wolf Sacred Moon slot at True Fortune Casino. Unlock the magic with our No Deposit…