Stake Casino Review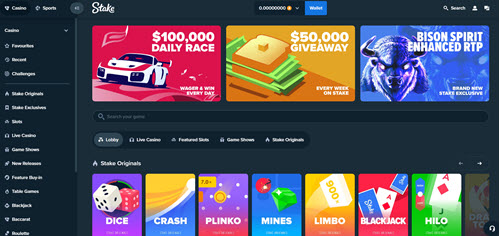 Stake.com Casino is available for Players of all kinds as it's fully equipped with different type of games, thereby suiting your needs. What do we have to say about its bonuses and features? Find out here.
Advantages
It has a good layout
The design is pleasing
The games are unique
There is Sports staking
Excellent Betting Markets
Several Incentives
The Website is well-known
Disadvantages
A Limited Number of Games
Inadequate Support
Stake, an online casino that got its license In Curacao opened its doors in 2017. It is possessed and maintained by a company that does not appear to run any other virtual casinos, and it has a huge and increasing member base, as proven by the number of reviews for this online casino.
In this Stake casino review, we'll explore how this casino stacks up against other iGaming alternatives, taking into account bitcoin payment options, bonuses, and games, in addition to everything else a first-hand player desires to discern.
Stake is a proud supporter of the Crypto Gambling Foundation, although we do not know what it is. On closer investigation, the organization has a website that was not functional (it has a database issue at the moment of writing) and a Twitter account that has not been updated in nearly a year.
The organization appears to have the correct intentions at its peak, but it also appears to be dormant, rendering it utterly useless and does not bode well for casinos that tout their inclusion. Do not let that fool you, though, because Stake.com is a fully licensed and regulated casino that collaborates with several major gambling brands.
Conceivably more upliftingly, Stake appears to be closely allied with PrimeDice, which a lot of you are likely to be familiar with. PrimeDice has been in the online gambling sector since 2013 and has a solid reputation. These two companies have slightly different parent names, but they are the same company because the license number and address are alike.
The Stake website is available in a variety of languages, comprising Spanish, German, Indonesian, English, Polish, and others.
Limitations
If you live in the United Kingdom, you can play Stake, but there are certain restrictions.
The main Stake Casino website is Curacao-licensed and accepts cryptos for all withdrawals and deposits. Players from the United Kingdom will be directed to a separate site if they attempt to access this site.
Although the names are similar, there are significant variances between these two websites.
To begin with, the UK site does not accept Bitcoins or other cryptocurrencies. In fact, as of this writing, it only supports Visa debit cards, which is a bit disappointing. The games and bonuses are also different because it is governed by the UK Gambling Commission rather than Curaçao eGaming.
Bonuses
To give you a clue of what you can find here, here are a few of the Stake bonuses available in 2022:
Stake's Daily Races: Daily, players have the opportunity to win a share of 100,000 USD in the casino's Daily Races. These are leaderboard promotions in which the top 5,000 players receive prizes and perks. You will receive points each time you make a stake in the sportsbook or place a bet in the online casino.
50,000 USD Giveaway: All gamers who stake 1,000 USD or more on the website will be entered into a prize giveaway for the possibility to win 50,000 USD. You can earn many tickets in this promotion, and each ticket surges your probability of winning.
Stake versus Eddie: In this campaign, you must beat a multiplier on the weekly slot. This is a win multiplier, and it is frequently set in the hundreds, such as 300 times. You can win a stake of 20,000 USD if you beat it. The pronounced thing about this bonus is that it is based solely on win ratios rather than total stakes or payouts, so you can win even if you wager the smallest amount.
Casino Challenges: Daily promotions that require you to complete specific tasks to win cash prizes. These tasks often have the same goal as Stake vs Eddie in that you need to meet precise multiplier sums.
Stake is absolutely a long-term casino, one that you join because you are looking for your new virtual home, as opposed to one you join simply to cash a big Welcome Windfall.
One of the best aspects of this online casino is its rather liberal loyalty program. The addition of such a bonus is always welcome, and something we don't see very often.
The Stake VIP Program is intended to provide perks and rewards to true VIPs, or players who deposit the most, stake the most and place the most bets each week.
As a member of the Stake VIP Scheme, you will be assigned a dedicated VIP host and will be able to collect weekly and monthly bonuses, cashback offers, and other benefits. You can't get into these programs if you deposit and bet small amounts, but if you play for average to great stakes, you might get an invite soon.
Games
Stake collaborates with a small number of premium iGaming creators and has a plethora of top slots from these developers. Many of the games you see will be accustomed to you, as with all online casinos, especially if you have played at a lot of virtual casinos in the past.
Stake, on the other hand, avoids the constant feeling of déjà-vu by using unique thumbnails rather than the developers' general contributions.
It's a minor detail, but it works well, and while it doesn't affect the game or your chances of winning, it does make the lot look more unique.
Honest stake casino review
There were only a few developers contributing titles to the Stake games room when we initially issued this review in 2020. We mentioned that there were only about 200 available slots. We may have miscalculated the number of games, but there are now more than 200.
The site appears to have well over 1,000 slots, including hundreds of games from some of the most popular developers
Stake has increased dramatically in recent years. It has evolved from a site that collaborated with a few position developers (Big Time Gaming, Relax Gaming, Thunderkick, Bgaming, and No Limit City) to one that has signed major deals with a slew of top creators. Pragmatic Play alone has over 200 slots, with another 100 from the dazzling Betsoft.
As previously stated, you are unlikely to find the same selection in the UK. The approximation of 200 is perhaps correct. Betsoft is one of the most notable omissions, as it is rarely found on UK casinos, but there are others, and the selection is generally quite limited in comparison to the non-UK site.
Review of Stake crypto casino
The distinctiveness of the site's best features is that it is dedicated to informing, advancing, and increasing its gaming collection. While the architecture of the site has remained nearly unchanged since we first published this review, there have been significant modifications to slots, Live Casino games, promos, and more.
It demonstrates that the operators are committed to improving what they have and continue to offer a premium gaming experience to their players. This should be common practice for most online casinos, but it isn't. Many of the smaller ones appear to give up after a few years, leaving them with an out-of-date assortment of games, a monotonous list of promotions, and outmoded software.
Stake casino evaluations
Nonetheless, we endorse sticking with games you're familiar with from developers you enjoy. This isn't a knock on Stake; we just have a natural aversion to exclusive games.
Several years ago, one of the largest gambling sites in the UK was discovered to be unintentionally cheating its customers when it was discovered that one of the game developers was cheating the system. These "cheats" took the form of a "double or nothing" slot offer that was weighted nearly 80% in favor of the casino, despite the rules stating otherwise.
It wasn't exactly branded software, but it was the next best thing (or, in some cases, the next worst thing), and if that can happen to a massive brand that has been around for nearly half a century, it can happen to an online casino that has only been around for a few years.
Highlights
Excellent Aesthetic
Unique Games
Several Promotions
Mobile and desktop compatibility
Payment Options
Stake is a crypto-only online casino that does not accept traditional currency payments. Nevertheless, you can choose between Litecoin, Ethereum, Tron, Ripple Bitcoin, and Bitcoin Cash.
Well, if you live in the United Kingdom, things are a little different. Because regulators have yet to warm to the idea, UK players cannot use any cryptocurrencies. They are instead given some basic deposit and withdrawal options, including Visa debit.
There is a fair probability that these choices will expand over time, and if UK regulators start allowing casinos to use cryptocurrency for deposits and withdrawals, Stake will be among the first to take advantage. As a UK-based player, your options are relatively limited until then.
There are no taking-out limits, and while there is a pending time, it is usually less than an hour. This means you should receive your funds as soon as you cash out.
User Reviews
There are a small number of things we don't like about Stake, a few things that need to be fixed but haven't been as thoroughly as we would have liked. Some people have labeled the casino as a scam for these reasons, but the truth is that if you type the words "is [any casino name]" into Google, the term "a scam" will always appear high on the search results.
Players are inherently skeptical of this sector, and they become enraged and suspicious when they lose, leading them to identify the site as a scam and failing to recognize that luck isn't always on their side.
Stake.com, for example, is a fully licensed and legitimate online casino.
The foremost problem we have is how the casino handles reviews. Its Trustpilot page has a score of 4.4 overall, based on nearly 150 reviews (at the time of writing). That's very promising for an online casino, but the fact that only 16% of adverse reviews have acknowledged a retort is not.
Visualize having a problem with a casino, going so far as to leave a negative review to vent and voice your displeasure, only to have it snubbed. It's not good practice, it irritates players, and it looks bad to prospective fresh members.
Stake.com deposit bonus Review
It's the same story with reviews on other user-friendly betting websites. We've previously highlighted casinos such as CryptoWild Casino, noting how difficult they try to impress and how much energy they put into responding to reviews and ensuring all customers' demands are met.
Only an individual needs to be assigned to this role, and for the sake of one person working a few hours per week, you can have a process that greatly benefits players, converts dissatisfied members into satisfied ones, and encourages non-members to join.
Of course, 16 percent is not 0 percent, so they have responded to some negative reviews, but to be honest, these responses are worse than nothing. In one case, they appeared to reprimand a customer for not installing two-factor verification and then inform everyone reading the review that it is the player's responsibility to keep their account secure.
This may be true, but it is not the correct thing to say. If a customer leaves a 1-star review saying, "terrible casino. Didn't let me win anything and refused to give me money when I asked" you don't call them a fool and go on. Also, it might be correct, but that's not how you treat clients. You appreciate them for their review, express regret copiously, even though they are the ones in the wrong, and tell them to contact you if they have an issue that needs to be fixed.
Support
The customer care options leave a little to be anticipated at Stake. The "Live Support" link, which is always visible in the left sidebar, didn't work the first time we wrote this review. The same thing happened when we tried the Live Chat icon in the bottom right corner of the screen.
We are presumptuous that these services were simply unavailable because they only appear to be available during business hours, but it would make more sense if we were directed to an alternative operation or at the very least informed of the outage. We assume it will be infuriating for players who do have a problem that needs to be resolved.
We're pleased to see that it's fully operational, but we're disappointed to see that the "Live Support" link and the little message icon at the bottom of the screen are useless. They simply refer to FAQ queries, implying that Live Chat is only available to active subscribers.
Commonly asked questions
The website first went live in 2017 and has been doing strong ever since.
Can I Make Use of Bitcoins?
You can use BTC as well as several other cryptocurrencies. However, as one might expect, these are not available to players in the United Kingdom.
Stake does not accept deposits via PayPal or other web wallets.
Can I Play from the United Kingdom?
Stake was initially unavailable to players in the United Kingdom, however, this has since changed. If you are from the United Kingdom, you will be forwarded to the Stake website. The Gambling Commission of Great Britain has licensed the UK site.
Is Stake Casino Real Money?
This is, indeed, a real money online casino and sportsbook. It is fully regulated and legal, and it is not one of those "skins" casinos that just accept play money.
Can I Play in the United States?
No. Currently, the site does not have a license to operate in any US area.
Visit the cashier, select "Wallet," enter your address, and then fund your account.
Conclusion
When talking casino reviews, we brought out several difficulties with Stake.com casino. However, these are modest and, in most cases, unimportant. They should also not distract you from all of the perks and amazing games and gaming experiences that this casino has to offer.
Unquestionably, there are slight issues, but that doesn't make it any less valid or worthwhile, and we recommend joining if you like the look of this online casino.
Review of Stake casino and sportsbook
On this, we accept you are not in the UK and are in a country subject to Curacao's jurisdiction. It's a different story if you live in the United Kingdom.
We didn't do a thorough review of the UK site, but what we discovered suggests that it has a very limited offering for UK players and that they would be better off elsewhere. The UK sportsbook is excellent and well worth your time, but the online casino, which is somewhat limited, is not.
If you live in the United Kingdom and are looking for a large casino and sportsbook, you should visit bet365. It does not accept cryptocurrency, but if you live in the United Kingdom, Stake will not either.
Remember to claim your Welcome Bonus if you join Stake from outside the United Kingdom. That way, you may get your Stake gaming experience off to a good start.