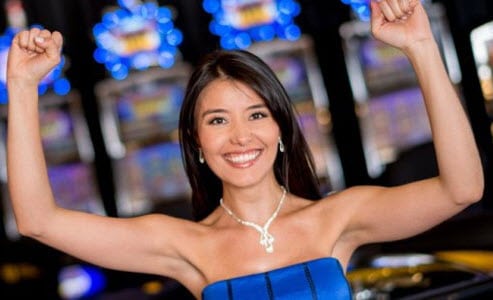 In times now long passed, casino gaming used to be a pastime totally dominated by guys, but nowadays all that is changing as more and more super skilful ladies are picking up the cards, throwing the dice and winning big. In this article, JENNIFER BENTLEY argues that it is online gaming that helped women enjoy the thrills of gaming…
When you actually stop for a second and think about it, the fact that women make such good gamblers seems pretty obvious. In general men are creatures of logic and rigid calculation, women on the other hand are beings of sensation and intuition, when they feel something… they know it! This isn't to say that women aren't as good as men at card-counting or doing the necessary number crunching that goes along with working out the odds of a successful bet, because we all know that women are just as good as men at math. Instead what we need to realize is that feminine intuition and sensational wins walk hand in hand, after all who is that every gamer prays to when they want to hit the jackpot?… LADY LUCK!
Throughout history women have always been keen and able gamers, the only thing that stopped them from achieving fame and fortune in the world of gambling were the sexist attitudes of men who just couldn't bear to lose to a lady. Don't believe me?… Take a minute to leaf through a history book and you will find countless tales about the legendary Poker Alice who out-wagered and out-bluffed the roughest cowboys and gunslingers in the Old American West. Sadly, though it's true to say that Poker Alice is one of only a few well known women in gambling lore. But as we speak there is a quiet revolution taking place, as mothers are winning big money, daughters are doubling their bets, sisters are raising the stakes, and aunties are upping the antes!
Why is this happening you ask? Simple, online gaming has empowered women helping them to enjoy the thrills and excitement of the casino in the comfort of their own homes. Land based casinos, as spectacular as they may be, still have a lot of the old male chauvinist stigma about them. With online gaming, ladies can play in complete security without having to think about some guy watching and scrutinizing every move they make. Even the amazing World Series of Poker competitor Anne Duke has been on receiving end of unpleasant comments from her male counterparts, in a 2004 interview she commented 'poker is very stressful… when guys look around the table they aren't going to let their stress out on the big guy in the corner, it's going to be me."
The fact that ladies are making waves in the world of online gaming is something to be celebrated by everybody; especially us guys, after all we stand to learn a lot from all you big winning women out there!