Treasure Tree Slot Review (RTG) Online Treasure Tree Slots Real Money USA
An mix of innovation and fun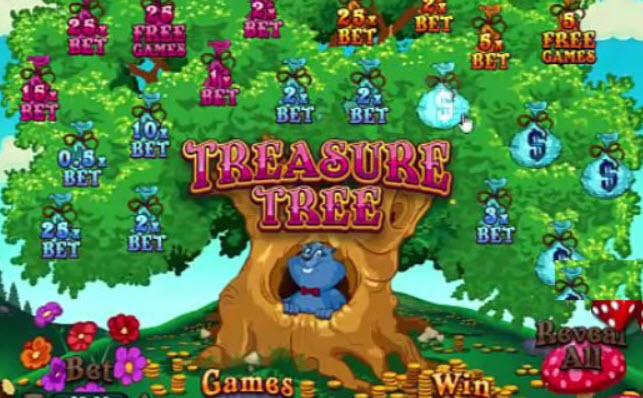 Play at TREASURE TREE SLOT NOW!
RealTime Gaming has managed to stun players once again in this slot that is a mix between scratch card and slot game.
Treasure Tree is a really unique game that combines scratchcards and online slot machines. If you are from Europe, Canada or the USA, you can definitely play this game for real money.
When you go Treasure Tree, the first thing you would notice on the screen is a big tree. When you scratch the bags of the tree, you have to match them to together. This is different from the click spin ot Autoplay at every game now. This is why is us really unique. All the bags of the trees have various colors.
What you have to do is scratch and match the blue, yellow and red bags and the tree.
When you start playing this slot game using real money, you could start off with even just 25 cents or go up to 25 dollars. The coin values in the game are 0.25, 0.50, $1, $2, $5, $10 and $25.
When you have chosen how much you wish to bet with, the next thing you would have to do is to click on the play button. When you press this button, your game starts. You will now be able to scratch the bags on the Treasure Tree one by one one. When you do that, click on the reveal button so that you can check your results.
This game is different from the ones that you have to click and spin. But this doesn't mean that you don't have the Autoplay option in the game. With the Autoplay option, you can play this game for real money, playing even 500 games in a row. The max amount that you can get is 2,000x the amount of money that you had staked.
Verdict
No matter where you are, be it a physical location or online, it is always fun playing scratch cards. But Treasure Tree is not what you would expect. It is a mix between scratch cards and slot games. A lot of people love this game, even going on to say that it is the best game ever released by RealTime Gaming.
Having said all this, we think that RealTime Gaming really proved themselves experts when they mixed these games with no issues. You have software developers who would make a combo of games like Blackjack, Poker, Bingo and other games. But if you are the type who just wants a simple fruit game, then you might not want to click on this one.