The Three Stooges Brideless Grooms (Best RTG Slots)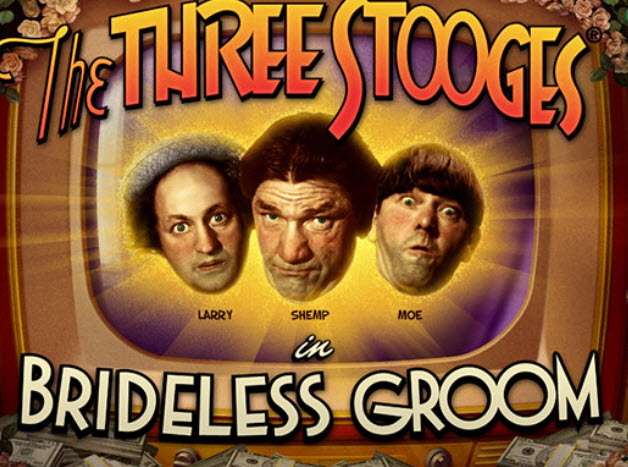 Play on THE THREE STOOGES BRIDELESS GROOM Slot
Are you ready for a world of fun?
The Three Stooges Brideless Grooms is an amazing slot remake of the Three Stooges, coupling fun with the excitement of beautiful rewards.
This game by RealTime Gaming is a very hilarious one. It has 33 paylines and gives you laughter after every spins. Your mission in thie game is to help the three stooges, Shemp, Moe and Larry reach their destination. Your reward to helping them would be getting big prizes added to your bankroll.
This slot is a classic. Why do we say this? It's obvious. You have grouped wilds first of all. And then the stooges. You would have to combine these two so that you could win lucky stooge spins. You have amazing rewards at this game. And guess what? That's not all. You have many more bonus features that would make you win big.
Play on THE THREE STOOGES BRIDELESS GROOM Slot
This game like we already said is a hilarious one. The only thing it doesn't joke with is the rewards because these ones are beautiful. This game that offers amazing rewards gives you beautiful graphics, great paylines, hilarious characters and music that would take you back to the Golden Age of comedy that everyone wants to go back to.
Like we already mentioned, you would find 33 paylines on this game. The good thing is that you can change them. The Stooge Picks bonus game is an awesome one. With this game you could get other free games and what's more, respins. When you get picks, you could get whacky wilds, increase your multiplier or get free spins. The maximum payout per line is 50,000x your stake. You have customization features in this game. You could choose to make use of the Autoplay feature and to change the game speed.
You can go as crazy as you want in the Three Stooges Brideless Groom slot game. This game will offer you lucky Ring Scatters and the grouped Stooges wilds. This sounds like a lot of fun doesn't it? With the Lucky Stooges pick bound feature you will get free games. These ones go from 9 to 33 and the feature will also offer you tripled wilds. As soon as you see the two pieces of the broken heart, then the feature will come to an end. Make it and you could actually get Shemp married during this feature. This will make you to go from one to two covered reels and instead of one respin, you get two. The symbols in this game would pay from left to right. All of them except the Scatter. This one would pay in any direction. The eins yoy get from the scatter are added to the wins you would get from the lines. This is multiplied by your total stake and this increases the profit even more. RealTime Gaming is responsible for developing this Slot game. And just like in the classic Three Stooges, you will see all the hilarious banter and funny antics.
This game is definitely one you should consider trying out. It is funny, interesting, exciting and it offers quite a lot of beautiful rewards. A must try in our book.