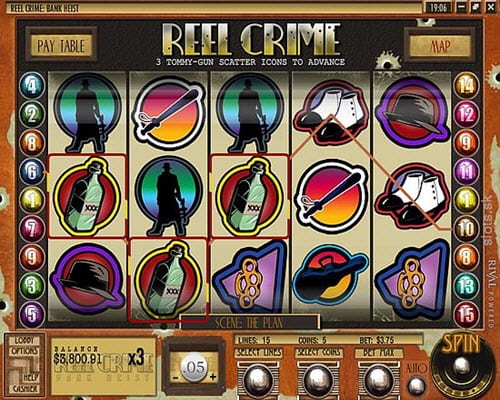 >Play on Reel Crime 1 Bank Heist
Bank Heists Slots Review (Rival Gaming)
The believe of so many people is that crime does not pay, but this game is going to change their mentality.
There is a big job on the horizon and the local mob boss wants to get a hired help. You can lend a helping if you are available while carrying out the gameplay.
Rival Gaming has designed the slot in such a way that you can progress through various levels and you will be happy going through varieties of sections on the Map. The 4 different sections include Case the joint and get the key, Get into the bank. Blowing the safe, and getting away with the loot is the last stage.
The symbols that you can get to enjoy on the slot are numerous, and this is available irrespective of the stage that you are. You can get up to 200 coins when you tuck the knuckledusters and baseball bats into your armoury. Also for 250 coins, you can as well make use of the mob-style violin. The moment you reach the safe, you will have to make use of the cash-bags and this might be up to 500 coins, players can as well win like 750 coins when they are able to get 5 gunmen.
As you trigger the symbols, the progress can be made from time to time. In the cause of enjoying the first round, the Tommy Gun Bonus can be triggered when you are able to trigger 3 Tommy Guns. The moment you are able to trigger this, there is a need for you to shoot at the target and find the major keys.
Having gotten the keys, you can then proceed to get more cops such that you can progress to the next level and blow the safe, with this there is a higher chance to win another round.
What you have to do next is to get the sticks of dynamite and blow off the safe. After you have been able to do this, you must try to avoid the cop to carry out a successful operation. Each step you take is a step closer to the cop so you have to be very careful. All that you have to do is just to find a means to the safe and blow it with the stick of dynamite.
The free spin bonus can be triggered by the sticks of dynamite 2,3,4 and 5 can trigger 1,5,10 and 25 free spins respectively. The Getaway icon can also fetch you free spin when you are able to get 3 or more. It is important that you keep spinning the reels so that you can have an edge over the cop.
Rival Gaming is known to be a reputable provider and it has done justice to this slot, a trial will convince you.