Orc v Elf Slot Review (Best RTG Slots)
Orc v Elf is a fantastic slot that is full of fantasy and particular about a great war, and it as well makes provision for reasonable bonus features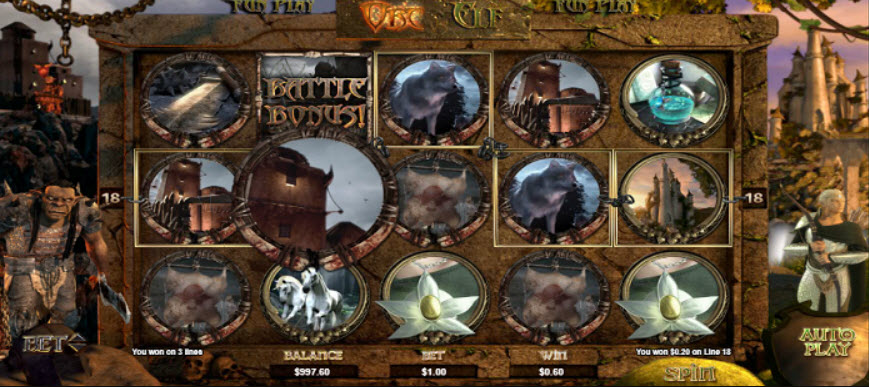 It looks like the J.R.R. token has a lot to of answer to give regarding the novels that he has written, and this is to the inclusion of the Lord of the Rings.
"The Hobbit" has spawned all the fantasy industry which is to the addition of movies, hames, T.V. series and many other things.
This RTG slot machine is inspired by taking two of the Tolkien Books, and they are placed against each other in a deadly battle. Of course, this starts with a right choice, and you can get to decide if you will like to play the Elf or the Orc
A Game-Based on Fantasy with Wild
This slot is very popular, and it has 5 x 3 reel configuration, there are 25 win lines in total, and their payout is from left to right. In the cause of playing the game, you will get to see the Orc standing on the reels towards the left side.
The fearsome Orc has a chain and sword, and you will not want to meet someone like that at night. When you look at the right-hand side of the reel, you will get to see the Elf standing.
Looks slim, blonde-haired character, and you will have the thought that the Orc can eat up the Elf. But then this is not the case, the bow and the arrow makes the Elf well protected against the Elf
Checking the reel 1, the Orc is the wild, while on reel 5 the Elf is a wild. These two wilds can easily replace some other symbols in which the only exception is the are the scatter symbols
On this slot, there are up to 10 standard symbols, in they are related to the Elf and Orc respectively. When you get to the side of the Orc, such symbols will be like a pile of skulls, or probably a wild wolf. When you get to the side of the Elf, you will get to see a white flower and a pair of a white unicorn
Features
This slot has three bonuses feature, the first is the Trail to the Fortress of Orcholme, on this players will get to enjoy bonus rounds that are up to 7.
The second feature is the Road to the Citadel of Elveros, there are up to 7 bonus round on this too, and the woodland spins feature happens to be the start. Lastly is the bonus battle feature, you will get to activate this immediately you can land the "Battle Bonus" on the 2nd, 3rd, and 4th reel.
Eternal Battles
The moment you open this game, it's going to display the fantastic visual introductions. You will so much enjoy how the Orc and the Elf move into battle, as gruesome actions are shown coupled with some nice games
Overview
For players that love to enjoy bonus features that are of wide range, Orc v Elf is just the best option they've got. It offers up to 15 elements, and this can be said to be the most that you can get to see on online slots
RTG Casinos