Naughty or Nice 3 Slot. Online RTG Slots Machines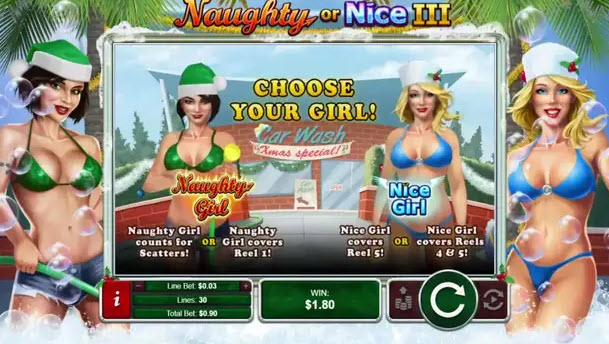 =>Play on Naughty or Nice 3 Slot
Date of issue: October 2018
Developer: Real Time Gaming
Number of Reels: 5
Ways/Pay-lines: 30
Bet limit (€/$): 0.30 – 7.50
Highest possible winnings: 12,500
Progressive Jackpot: N/A
Megaways: N/A
RTG Casinos USA
Down the line with the release of Real Time Gaming Naughty or Nice slot series, it has been one of the treasured slots sequels ever. More especially from this developer game portfolio. Here comes the third series, tagged as the Naughty or Nice III slot.
Naughty or Nice III Slot is fixated on players feeling about Christmas & wanting to have a more delectable game to fiddle with. For a second time, the Naughty or Nice III slot follows up with Santa having fun on his own, by the side of 2 beautiful women. Mrs. Santa is not joyful in any way. The slot makes the best option for so many spinners at this festive time of the year happening soon.
In the Naughty or Nice III slot, Realtime Gaming decided to go with 30 non-adjustable pay-lines structured on three rows, five reels, with a somewhat traditional design. You'd find two kinds of features in there, determined by whether it's the Nice Girl or Naughty Girl activating it.
Furthermore, you'd come across familiar features such as the bonus spins, scatter symbols, and wild characters. Naughty or Nice III slot is a reasonably fair slot machine to play. Therefore, you can turn on the game with just a small amount and do not pay a considerable amount of money. The thresholds enforced by real-time gaming is 50,000x of a player's stake on a pay-line, which makes it $12,500.
Bet limits and Jackpots
Anything from a range of $0.01 – $0.25, you're good to go for playing at Naughty or Nice III slot. While you use 30 pay-lines in operative, this allows for a bet range from $0.30 – $7.50 for every spin.
You just don't have to exhaust all your Christmas freebies on this, only if you are eager for that. Players considered big spenders might not find this game suitable enough, will unhappily need to attempt a different slot machine.
Now to the possible fringe benefits to expect of this slot machine, the best winning combination releases 500 coins, equal to $125. Naughty or Nice III slot sets out a threshold of 50,000x of the stake on a pay-line acted on any payouts released from the game. The highest you can expect is $12,500.
Play-Features
While playing, the characters that can have your interest enough are the options with the two young ladies. The two of these represent the wild icons and thus show up on separate reels. You'd come about the Nice young lady shows up on reel four and five, whereas the Naughty lady on reel 1 and 2.
In any case, either of these girls acts replacement roles & are significant whenever they form up with any standard symbols, far from the scatter icons.
You can find the Scatter symbols here also, & thus appear as the slot emblem. If you can make them show up to 3, 4, or 5x can release 2x, 10x, or 100x of bet size. Its' also an avenue to access this slot best part of its feature.
You need to select any of the two girls, the payouts released because the selected option can multiply 2x for the bonus spins. Besides, you can have more play-feature turned on.
The Naughty young lady makes any of the first reels go completely wild, or rather add up to a scatter symbol at any time it does show up. About the Nice Girl, she has the tenacity to fill up the fifth reel or possibly undertake this for either reel 4 or 5.
Lucky play-addition
The Lucky play-addition is a randomly-released freebie capable of activating by any chance. So, possibly, you can have a range of 5 – 10 Lucky Bonus Games or instead turn on this slot's best part of its feature.
Layout and The Game plot
Naughty or Nice III centers its play scenery on a Xmas plot, though with some touch. Other than the Santa representations, erotic young Ladies represent this slot's main characters.
Meanwhile, the Nice and Naughty Girls accounts for a prominent aspect of the game, like other titles programmed in a sequel in recent years. For sure, you can find a psychotic Mrs. Santa gift in the game, together with this slot badge, an auto wash logo, Labrador, & a receptacle full of money cash.
Conclusion
Naughty or Nice III slot is the most appropriate option to turn to frolic for Christmas; perhaps you would adopt something erotic in place of a classic.
Boon
Players regard highly of Naughty or Nice III slot.
It is a cent slot, making it possible to stake even 1 cent for each pay-line put to use. The overall least bet size for each rolled reels is €/$0.30
Bane
The maximum bet size is very Low
FAQ about Naughty or Nice III slot
What's the RTP for the Naughty or Nice III slot?
The RTP considered with the Naughty or Nice III slot is yet to be discovered, though we plan to add it shortly.
What are the main elements provided for in the Naughty or Nice III slot?
RTG's Naughty or Nice III slot arranges for 30 winning ways and five reels, with which you'd be able to spin from €/$ 0.30 – €/$ 7.50 at a stretch. Also, the winnings are equal to 12,500x a player's bet size.
Which platforms is Naughty or Nice III slot available for demo play?
Our gaming experts figure out a list of online casino sites in ranks featuring slot machines from Real Time gaming. First, look through the top Real Time Gaming powered casinos that offer Naughty or Nice III slots.
Then, endeavor to select any of the featured online casino hubs highlighted on this page & tap the "Play Now" control. Some casinos may require you to sign up with them before playing, while others enable you to play for free with no need to become a member with them.
How possible is it to play Naughty or Nice III slot on smartphones?
Yes, the Naughty or Nice III slot is built with HTML5 systems & 100% mobile compatible.