Megasaur Slot Review (Best RTG Slots)
Hear the Megasaur roar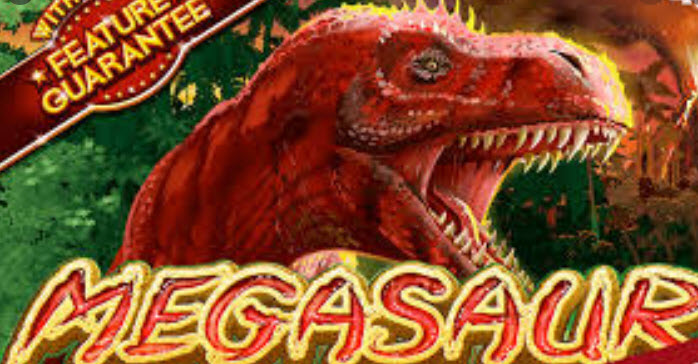 If you like dinosaurs, then this dinosaur slot with its amazing graphics and its great Rewards will take you on a beautiful journey.
Like the name might have already clued you in, Megasaur is a dinosaur themed slot from RealTime Gaming. This slot has some exciting bonuses but none of them would stun you like the progressive jackpot which came close to $1,000,000 during our review.
RealTime Gaming knows what it means to produce a dinosaur themed slot as they released T-Rex, and the fans loved it. But we can't definitely say that Megasaur is going to be big particularly with the amazing progressive jackpot it has to offer to players.
Symbols and Game Play
Like a lot of slots from RealTime Gaming, you would find 25 paylines on 5 reels at Megasaur. You have three amounts of betting options to make your choice from, with the highest being $5 ($0.20 per line), $2.50 ($0.10 per line) and the lowest being $1.25 (0.05 per line). This will not really please players who love to high ball. But we do think they should give it a chance because $5 to win a jackpot worth almost $1,000,000 is such an amazing deal.
This game has as setting the jungle. And this is accentuated by the very dramatic sounds. The whole mood is in complete sync, right to the dinosaur symbols that are on the reels. We do think that this slot game looks a lot like the T-Rex slot. You have a Green and Red Megasaur and these ones are wilds. Added to these, you have four dangerous Dinosaurs, playing cards from Ace to 10 (all designed in a shocking way) and finally a Volcano which plays the role of the Scatter.
Bonuses
Megasaur Wilds: If a Green Megasaur (a Wild) lands on the second reel, it replaces every symbol excluding the Volcano and the Red Megasaur. The Green Megasaur eats all the Dinosaurs that you would find on the reel and it replaces those ones. If a Red Megasaur lands on the fourth reel, it replaces all symbols except the Scatter and the other wild, eating all the other dinosaurs so it could become Wild. The only difference between these two wilds is the fact that when Red Megasaur is part of the combo, your wins are doubled.
Free Spins: To trigger the free spins round in Megasaur, more than two Scatters need to land on the reel in one spin. Then you can click on each of the Scatters to show the number of spins you've gotten (could be 10, 5 or 2). When you add them, then you get the total amount of free spins you'll be benefitting from. You should get at least 6 free spins. The highest number of free spins you can get is 50 if five Volcanos land on the reel and give you 10 free spins each.
Feature Guarantee: Are you scared to spin and spin and spin but no way to activate any bonus feature. Don't be worried. RealTime has a new "feature guarantee". This one triggers the bonus feature automatically after you have spun the reels 250 times.
Win Win Feature: If you're the type of person who doesn't win a lot during the free spins mode, this one is for you. If you don't win anything during the free spins mode, you get 250x your initial bet. If you win just 5-10x, then you would get 2-250x your stake, if you win 2-5x, you are credited with 3-250x your bet. This feature is extremely generous.
Progressive Jackpot: The only way you can win the huge progressive jackpot in Megasaur is of five volcano symbols land on the reel during the free spins rounds, and this this only if you are playing $5 per spin. When we made this review, the jackpot was worth $999,931 so you should jump on this train.
RTG CASINOS