Gem Strike Slot Review New Realtime Gaming (RTG) Slots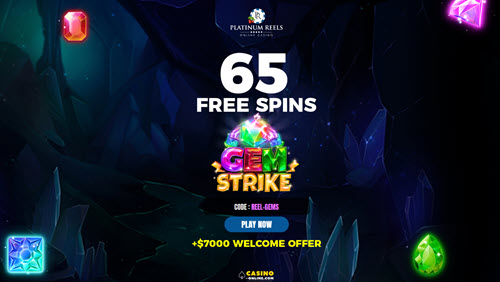 Players at casino sites find many of the most entertaining games to play are video slots. Playing slots is never a problem since there are thousands and thousands of different machines to choose from. The online gaming world widely recognizes Realtime Gaming as one of the most reputable software producers in the iGaming market. This kind of game is regarded to be the developer's area of expertise due to the fact that they have produced a large number of online slots. Another game that you may enjoy playing and having fun with at casino sites is called Gem Strike, which was developed by Realtime Gaming. There are 25 paylines that are always active in this 5×3 slot machine. You can find out more about the Gem Strike slot machine by reading the review that we have provided below.
It's Like a Diamond Mine Out There
Diamonds and other valuable stones are the focus of the gameplay in the slot machine series known as Gem Strike. As they play the game, the gambler will see that they are appearing all over the reels. They are available in a wide variety of forms and hues, including the following:
Red gems
Mixed-color gems
Blue gems
Orange gems
Green gems
As well as others. Players are likely to take pleasure in this feature of the slot game since it is aesthetically pleasing. You may choose the quantity of your bet and spin the reels to practice playing the game for free; the UI is straightforward and straightforward to use.
Free spins with a multiplier attached
There is more to consider than simply the core gameplay. There are some extras that you need to be aware of, despite the fact that the fundamental spinning sensation of the Gem Strike online slot at our casino website will undoubtedly provide you with a great deal of entertainment and amusement. To begin with, if you acquire at least three scatter symbols in the shape of yellow thunder, you will be awarded up to fifty free spins. This is an amazing bonus that will increase your chances of winning a significant amount of money.
Next, we need to discuss the cascading winnings feature, which causes winning icons to vanish and be substituted with new icons at random intervals throughout gameplay. The multiplier bonus will also increase with each successive win that you receive, and on top of the wins that you will obtain with the assistance of the cascading winnings feature, you may gain up to a 3x multiplier on top of those wins.
Win Big Prizes at Gems Galore
When you play Gem Strike with actual cash, you have the chance to earn enormous amounts of money. The highest payout on this slot machine is equal to 50,000 times your stake, which shows that even the unluckiest players have a chance of becoming wealthy when playing Gem Strike.
Despite this, we nevertheless strongly suggest that you try the Gem Strike slot game for free before anything else. The demo edition of the game will walk you through all that it has to provide, and you will quickly get familiar with its features and all of its ins and outs. After that, you'll be able to put your luck to the test by beginning to play the game for actual cash.
An Exciting Adventure Loaded with Treasures
Gem Strike has all the makings to be a true standout among online slot games in its own right. It's a straightforward slot machine game, but it provides a fantastic standard spinning experience, in addition to some additional unique features. Playing this slot machine will not be a waste of your time thanks to features like its maximum exposure limit of 50,000 times and its 50 free spins, which can be triggered simply by spinning the reels. We want you to have a great time playing Gem Strike at our casino site and that you will have success while doing so. You are aware that we work hard to provide you with happiness, but we do not believe that anybody would be unhappy if they also received some financial compensation.
Frequently Asked Questions About the Gem Strike Slot Game
Does the Gem Strike slot machine have any free spins?
If you collect at least three icons while you're playing the game normally, you'll be rewarded with up to fifty free spins.
Is a mobile version of Gem Strike available?
Because it is built with complete HTML5 compatibility for iOS, Android, and tablet devices, Gem Strike may be played on mobile devices such as smartphones and tablets.
What's the maximum exposure of the Gem Strike Slot?
In Gem Strike, the highest exposure you may have is 50,000 times your initial investment.