Dollars to Donuts Slots (Rival Gaming)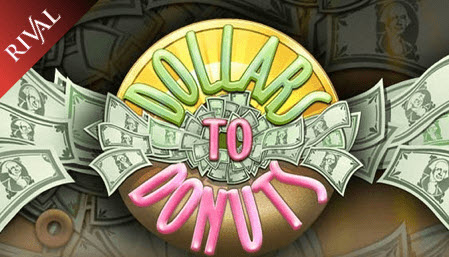 >>Play on Dollars to Donuts Slot
Are you one of the players that have great love for cash and have a nice set of teeth? Then this new slot machine that is developed by Rival Gaming is for you and it is called Dollars to Donuts Slot.
It is made up of three wheels and players will have the opportunity to win as much as five thousand times their stakes. The game contain five bet lines and the wheel contain a lot symbols that contribute the players winnings. Among the items and icons that will be seen on the wheels include seven shaped doughs having an icing of apples, lemons, and blackberries, dough with strawberry icing, and so on.
Once you set your eyes on all these items you will want to have a taste since they will feel yummy. This is one of the reason behind the game being designed like that. The same way you are playing to win will be the same way you will be landing these items with satisfaction. Dollars to Donuts Slot is among the slot games with three wheels that is designed fantastically.
Betting Options and Paytables
Being a slot with three wheels a lot of players do not expect the game to come with different actions however, they have been proved wrong. Players have the opportunity to stake on top five bet lines with three wheels being available. Your winnings will also be affected by the wagering options you used. Players are allowed to activate any figure of the bet lines from one to five.
If you are a high roller you can stake on bet line of five to have a big payout. To play the game there is need to select the coin value with the least one being 0.01 coins and the highest amount is five credits. Winnings are taken from the left hand side to the right hand side of the table.
The amount you staked will determine your payout which will be displayed on top of the wheels. You can wagered coins of one tines, two times, or three times however, the amount you will receive after winning will depend on your bet value. If you land one donuts symbol then stake with a one times coin you will be rewarded with one thousand and five hundred times your stake. If it is two times coins you will be rewarded three thousand times your stake and with three times coins it will be five thousand times your stake.
This symbol can also serve as the wild which implies that it can substitute for any other symbols to form winning combinations.
Conclusion
Dollars to Donuts is not the first slot game that will have such as theme. There are lot of slots like that but the payout may not be up to this slot game from Rival Gaming. Players will have the opportunity to convert the delicacies they landed into money.
Online Slots