Crazy Camel Slot Review (Rival Gaming)
Crazy Camel Slot is an online slot machine with Rival Gaming as its software developer. It is made up of three reels and a bet line. The minimum bet is 0.01 coins and the maximum bet is thirty coins.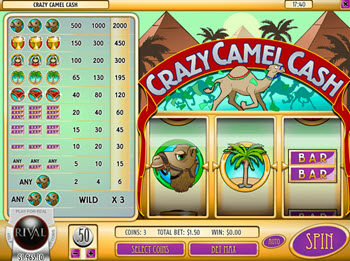 About Crazy Camel Cash Slot
Are you a lover of slot machines but you are still looking for a slot game you can indulge in? Then your search is over with a newly released online slot game from rival gaming known as Crazy Camel Cash. There are lot of characters and symbols that will contribute to the winnings of the players once they showcased. Some of them include flying carpet, chalice, palm tree, and sheik. Players will receive the highest payouts if they are able to land the highest paying icon which is the logo of the slot. Also it can serves as the wild icon which can substitute for other icons to form winning combinations. It is a slot game that is made up of three wheels and one bet line that can be seen at the centre of the wheels. The graphics and designs of the game are topnotch and they are attractive to players.
Symbols and Paytables
The major character in this game are the camels with the player being awarded six coins for a camel. The appearance of three camels will make the player receive up to two thousand coins. When you land 2 camels it will change to wild icon and the wild can replace all other icons to form winning combinations. With the wild players will be rewarded with times three of their winning. These are not the only means by which you can add to your winnings. There are other symbols that contribute to it such as the flying carpet amounting to one hundred and twenty coins. Palm tree amounting to one hundred and ninety-five coins, sheikh amounting to three hundred coins, and the chalice amounting to four hundred and fifty coins.
Wagering Option
Although the slot is made up of only one bet line but there are twenty-seven means of staking. Players can stake one, two, or three coins per spin and the coin values between 0.01 and ten coins. The least amount that can be staked is 0.01 coins whereas the highest amount is thirty coins.
Conclusion
One of the slot games released by rival gaming that is very popular and took the market by storm is the Crazy Camel Slot. It is a three wheels slot game with one bet line. Rival Gaming is a reputable software provider that is renowned for releasing quality slot games that will satisfy the need of the players. There are lots of excitements that will be derived from playing this slot game. It is compatible with a lot of devices and you do not need to be at some place before you can play it. All what you need is a good internet connection and you will be ensure of a smooth gaming session.