Coins of Olympus Slot Review
Just in case you have been wondering about how the gods of the ancient Greeks bestow grace on their wards.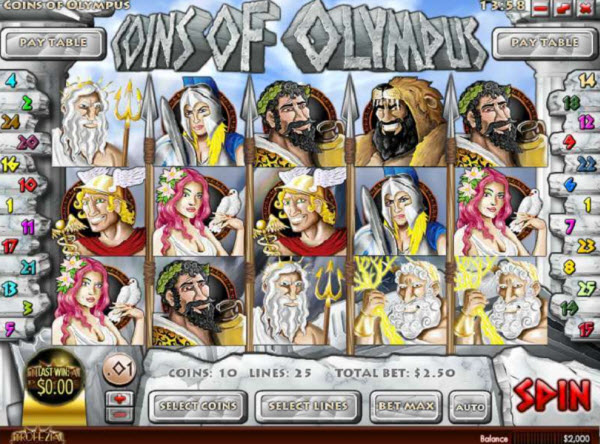 >Play on Coins of Olympus Slot
This is the best time for you to try out this slot, Rival Gaming has a done a wonderful job regarding the slot. With this, you will be able to win the favor of majority of the ancient Gods which include Athena, Ares, Aphrodite, Dionysus, Hermes, Athena and Zeus which happens to be their father.
Also there are expanding Gold Coins, Silver Coins and other valuables that you can take advantage of.
Olympus
The mount Olympus can be said to be the home of the gods, and there are 25 paylines on the 5 reels. There are individual characters showing various personalities that will get the players rewarded.
Cash in coins
There are lots of spins and rewards that you can get to enjoy by taking advantage of the gods' blessing. Hermes the messenger can get you up to 65 coins, Dionysus can get you up to 75 coins, Aphrodite can get you up to 125 coins, Ares can get you 250 coins, Athena can get you 500 coins and Hades can get you 750 coins. Zeus being the father of all can get you up to 1500 coins in the cause of enjoying your gameplay.
It is important that you watch out for the Gold and Silver coin, they are the expanding wilds that can serve as replacement for some other symbols. 7 free spins will be triggered 3 gold coins, 4 will trigger 15 spins, 30 free spins will be triggered by 5. When you are able to get 3 or more free spins, they will trigger the same amount of Titan spins. The Mystery Bonus Round can be triggered by 3 or more Poseidon's.
Find Your Level
Talking about the Spin Stakes, the gods might be thinking that they are the cream of the crop. There are up to 25 paylines and the coin ranges from 0.01 to 0.25. The minimum and the maximum bet ranges from 0.01 to 62.5.
Coin it
This slot is a great opportunity for you to earn favors from the gods by enjoy some decent bonuses and prizes. The game can be played for free and also with real money.