Atomic Age Slot Review (Rival)
Atomic Age Slot is an online slot game that is made up of five reels and four hundred and fifty means of winning. Rival Gaming is the software provider responsible for developing the slot machine. The minimum amount that can be staked is 0.01 whereas the maximum is seventy five coins.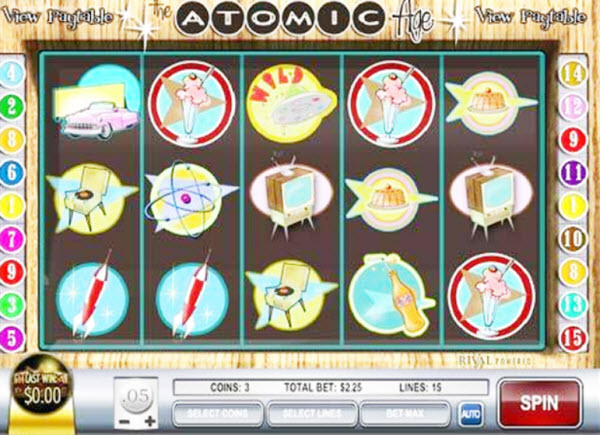 About Atomic Age Slot
What do you think about going back to the olden days when there is nothing like internet? Will you like such a journey? If yes, then you should play this slot game that was developed by rival gaming and known as Atomic Age. From the slot name you can deduced that it is themed in a traditional way. There are lot of unique objects that symbolized the era is that of the atomic age.
Some of the icons include unidentified flying objects, black and white television, and record player. There is an award attach to each of these unique objects. This game will present players with the opportunity to amass a lot of winnings. A lot of bonus options have been added together with some symbols that will increase the payouts. Some of the options include scatters, bonus session, and free spin session.
There are four hundred and fifty means of winning when playing this game. This game is not only meant for high rollers but for every caliber of players with the opportunity to bet as low as 0.01 coin. The black and white television serve as the background for the wheels and contain well coloured and designed icons.
Symbols, Paytable, and Bonus Options
Although the game may not be able to present the players with all the iconic objects present during that time but there are sufficient ones. If you are able to land three to five icons that are similar icons you will be awarded. Sixty-five coins will be given for obtaining ice cream sundae and jelly. For obtaining soda you will receive about eighty coins. Two hundred coins will be awarded for the black and white television and record player. The highest amount in the paytable are the amazing unidentified flying objects that were seen in the atomic age.
There is another icon known as the wild that can be used in 2 ways. It can substitute every available icons on the wheel and players can receive about seven thousand and five hundred coins with it when a lots of the icon showcase. Another icon is the scatter icon that two icons (a car and a cash register) can serve its purpose. The two bonuses rounds will be activated by the two icons and players will receive abut fifty times their overall stakes.
Wagering Options
For a spin the players can decide the number of lines they want to stake on. The range of the coin value can be selected by the player. For one spin the least a player can stake is 0.01 coin whereas the highest is seventy five coins. There are four hundred and fifty means of winning.
Conclusion
Atomic Age Rival slot is a fantastic slot game from one of the best software provider in the gaming industry with a lot of opportunities available to the players. Among the opportunities include free spins, scatters, and bonus round. If you are curious about what the atomic age is all about then you need to play this extraordinary slot game. Rival Gaming has been in the gaming industry for a while and the developer is known for releasing quality slot games.
Rival Casinos