As the Reels Turn Slot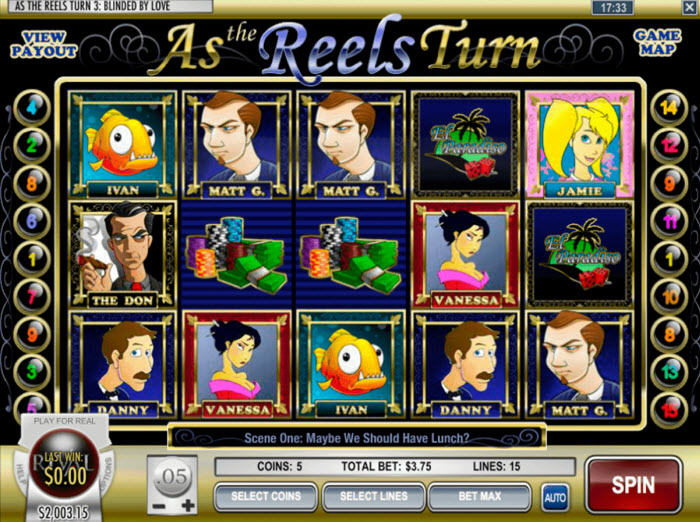 >Play on As the Reels Turn Slot
As the Reels Turn Slot is an online slot game that is made up of five reels and fifteen bet lines. Rival Gaming is the software provider responsible for developing the slot machine. The minimum amount that can be staked is 0.01 whereas the maximum is seventy five coins.
About As The Reels Turn Slots
A reputable software provider known as rival gaming has released another new slot machine referred to as As the Reels Turn. From the title of the game it can be deduced that it will be related to a casino. This game will present players with the opportunity to amass a lot of winnings. A lot of bonus options have been added together with some symbols that will increase the payouts. Some of the options include scatters, bonus session, and free spin session. Some of the icons the scatter icons that will enable the players to receive ten free spins when activated. You will get to know all the things that take place in a casino including the different kind of people that will be present. This game is not only meant for high rollers but for every caliber of players with the opportunity to bet as low as 0.01 coin. As the Reels Turn slot is made up of five wheels and fifteen bet lines. If you are a player that loves going to a casino you will have a lot fun playing this game. The slot game contain amazing graphics, designs, and soundtracks.
Paytable, Symbols, and Bonus Option
As stated earlier there are some characters and icons that will aid the winning the players. The slot game has a fantastic pay table, bet lines, and special symbols. Players will receive one hundred coins for obtaining lobster and red wine. If you are able to meet at least one out of the Don, Chrissy, or Matt you will be awarded two hundred coins. If you are able to obtain the el Paradiso casino icons you will be awarded one thousand coins. Scatter icon and bonus symbols are some other icons that add to the winnings of the player. You will be awarded about fifty times the player's overall stakes for landing five of these icons that are the same thing. If you land at least three of them bonus games will be revealed to you. You will be awarded ten free spins if it is Ivan the Piranha and all your winnings will be times two. Getting the scatter which is Tommy Wong will give you the opportunity to win based on audience reaction to the performance you will initiated by telling the scatter character to imitate an artist. You will be given an extraordinary bonus if you are able to obtained 3 bonus symbols. Players will be taken to another stage in the game when they obtained at least three of the advance to the next scene icons. There are other variants of these game that you can also check out from rival gaming.
Wagering Option
For a spin player can decide to bet from one to fifteen lines and stake from one to five coins per line. The range of the coin value is 0.01 coin to 1 coin. For one spin the least a player can stake is 0.01 coin whereas the highest is seventy-five coins.
Conclusion
A Switch in Time slot is a fantastic slot game from one of the best software provider in the gaming industry with a lot of opportunities available to the players. Among the opportunities include free spins, scatters, and bonus round.