Platinum Play Mobile Casino Review
Platinum Play Casino is a part of Fortune Affiliates and has been online since October 2003 offering a wide selection of games and full service customer support. They are licensed by the Kahnawake Gaming Commission, Mohawk Territory of Kahnawake, Canada and approved by eCogra.
Bonuses Platinum Play Casino
Platinum Play casino awards players a multitude of bonuses for their enjoyment. Currently the sign up bonus is a 200% matching bonus up to $100 (£). Players can receive an additional 10% deposit bonus depending on their method of deposit.
Tournaments are held weekly, special bonuses are listed daily when you enter the download casino, and there's also weekly matching bonus offers. Add all of this to the special bonuses, such as the current Five Week Fiesta where players can win up to $170,000 in prizes or the Ride of Your Life winner where a player won a brand new Jaguar and you have a stunning combination of bonuses any casino would brag about.
Of course Platinum Play also offers a Loyalty Program as part of the Buffalo Partners Affiliates.
---
Platinum Play now offers $1,000 free and 100 FREE SPINS
* please note that the bonuses listed above may not be up to date. check the casino website to get the updated bonus details
Bonus Rules
Jacks or Better Power Poker, Jacks or Better Video Poker, Jacks or Better 10 Play Power Poker, Baccarat, Craps, Roulette and Sic Bo do not count towards the wagering requirements on many of the bonuses given. It's best to check the site for the details relating to each bonus. Craps and Roulette are exempt from all wagering requirements.
Platinum Play gives a 100% sign up bonus to new players. The maximum bonus given is $200. The deposit amount must be wagered within 72 hours of depositing before the bonus is given, otherwise the player will not receive the bonus. Once the bonus has been credited the player must wager 15X the deposit plus bonus amount before being able to withdraw funds. This means if you deposit $50 and receive a $200 bonus you must wager $50 before you receive the bonus, then you must wager an additional $2250 before being able to cash out your winnings. Blackjack can only be a maximum of 20% of your wagering amount. In other words, if you have to wager $2250 to be able to cash out only $450 of that is allowed to be blackjack wagering.
All deposit match bonuses must be wagered 10X the deposit plus bonus before being able to cash out. Again, the deposit amount must be wagered within 72 hours of depositing before the bonus is given, otherwise the player will not receive the bonus. The 10X wagering requirements are only counted after the bonus has been added to the players account. This is an important point to note as if you are on a roll before you receive your bonus it doesn't count towards the wagering requirement.
Most bonuses require the basic wagering the deposit amount before receiving the bonus and then the 10X deposit plus bonus wagering requirements before being able to cash out. Generally bonuses can not be used in conjunction with each other, in other words you can not get a first deposit by Click 2 Pay bonus with your Sign up bonus. They must be used separately.
Players from Denmark have a higher wagering requirement for most bonuses. They must wager 20X the deposit plus bonus after receiving the bonus before being able to cash out. The following games are also restricted towards the wagering requirement: all forms of Blackjack, Craps, Sic Bo, Red Dog, all forms of Baccarat, all forms of Roulette and Progressive Roulette tables, all forms of Power Poker and Video Poker except Deuces Wild.
* please note that the rules listed above may not be up to date. check the casino website to get the updated bonus rules details
---

Customer Support
Platinum Play has a full range of customer support to please their punter. Players can call toll free from the following countries: USA, Australia, Canada, France, Germany, Hong Kong, Israel, Italy, Malaysia, Portugal, Singapore, Taiwan, Thailand, and United Kingdom. If you live in a region outside of this list you can insert your details into an online form and someone from their customer support will call you. Toll free fax is available from the USA and UK. Live Chat, email, and of course FAQ's are also on hand.
Games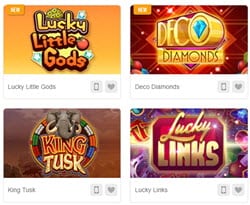 Platinum Play is powered by Microgaming which means the gaming operator is stable and has the widest array of games available online. The design is cutting edge, the play is smooth and fast and the games themselves have helpful options. Review your game history by clicking on the Playcheck red checkmark in the upper right corner of the menu. All of the important details regarding a game are clearly listed when you scroll over it on the menu (for the download version). Choose between the download or browser casino. The browser casino is Flash so which is less heavy than Java online casinos and less prone to crashing.
Selection of Browser games:
• 51 Slots games
• 15 Video Poker games
• 23 Table games (including 7 versions of Blackjack)
• 7 Progressive Slots
Their download casino had more games than I could count. The only thing missing are multi-player games and live gaming, but you can't have everything, and they do offer more than most. Check out their slots games and look at the detail they put into the design.
Credibility
Platinum Play makes every effort to assure the player that their games are fair and honest. PriceWaterhouseCoopers does independent game reviews monthly and posts every review they have had done on this casino online dating back to October 2003.
Microgaming, the software used for Platinum Play games, is a member of the IGC (Interactive Gaming Council).
---

Deposits and Withdrawals
Players can deposit into their Platinum Play accounts via Neteller,  Click2Pay, InstaDebit, credit card,. Neteller,  and Click2Pay come with a first deposit bonus however this can not be used with other bonus offers. Minimum deposit is $20.
Minimum withdrawal is $30. Most withdrawals are credited within 24 hours depending on the deposit method. As most casinos, security documentation will be required on your initial withdrawal and may be required from further subsequent withdrawals.
Message Boards Rumors
In December a player had deposited, played, and THEN realized that he wasn't automatically a member of their players club. He wrote in to customer service Live Chat and tried to rectify the situation, asking understandably if they would backdate his membership and include his $500 deposit and gaming points. Platinum Play refused.
In November a player had deposited, requested, and received the 200% sign-up bonus. She had played and won, wagered the required amount, and cashed out. However, the player had only received her deposit amount back to her Neteller account. Apparently she received other bonuses that she did not request (the Neteller deposit bonus and a special bonus) and had not been informed of the additional wagering requirements. The Neteller bonus was $5 and had a 110X wagering requirement. She didn't even know she received this bonus. As she had not met the wagering requirements before cashing out her winnings were voided. The problem with receiving a bonus you did not request and are unaware of, besides the ridiculous wagering requirement, is if you have already started gaming with it they will not remove it from your account.
Fortune Affiliates has a reputation for this type of scenario. The moral of the story is: read the terms and conditions and make sure you know everything to the letter before you deposit. Once you deposit and play make sure you have complied with every wagering requirement before cashing out. Check with the customer service department if necessary and keep a copy of all interaction with the casino. Platinum Play will show you your game-play and your transaction history; it's up to you to record your interaction with customer service.
* please note that the "Message Boards Rumors" section is information taken from message boards and is impossible to verify
---
Personal Conclusion
Microgaming makes wonderful software, so the rest is up to the casino. Fortune Affiliates has a reputation as sneaky and underhanded on the message boards. However, they don't do anything wrong technically, and they do offer amazing bonuses. This is a case of buyer beware. Make sure you know all of the options for Loyalty Club and all of the wagering requirements and casino rules before you ever deposit. Take time out to check anything you might have a question on with their customer service. People win huge here and their prizes are amazing, so it's worth going to the extra effort if you are a serious gamer and love a big win.