Hole in Won Slots is one of the Rival slot games software. This slot was released in 2007. Type of Hole in Won slots is Bonus Video (also: 5 reel Bonus Slots) with 5 reels and 15 paylines.
This slots is based on the theme of Sports (and the Golf). The Hole in Won slots has Wild symbol (Eagle), Scatter symbol (Bonus Birdie) along with various regular symbols: Golfing Man, Golf Ball, Umbrella, Golf Shoes, Golf Carts, Golf Clubs, Hole in Won.
In it slots you can choose a mode convenient for game 'Autoplay'.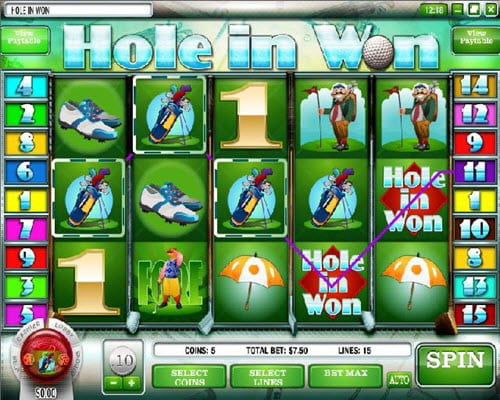 You can win up to 18.75 coins on the Hole in Won slots with the bets per spin: $0.01, $0.05, $0.1, $0.25.
Hole in Won Slots Type: Bonus Video
Reel: 5 Payline: 15 Max coins in game: 75 Winning Combination: 27
Themed: Sports, Golf
Symbols on the reel: Regular – Golfing Man, Golf Ball, Umbrella, Golf Shoes, Golf Carts, Golf Clubs, Hole in Won Wild – Eagle (multiplier No) Scatter – Bonus Birdie
Jackpot of Hole in Won Slots: Max – $750 on $18.75 max bet Second – 500 coins
Bets per spin: Min – $0.01 Max – $18.75
Coin Values: $0.01, $0.05, $0.1, $0.25
Bonus Game on the Second screen: Crazy Golf Bonus Games(MLPB)
Wild: Eagle
Scatter: Bonus Birdie
Autoplay: Yes
Coin-based game: No
Gamble game: No