Desert Raider Slot Review Get (70 Free Spins) No Deposit Bonus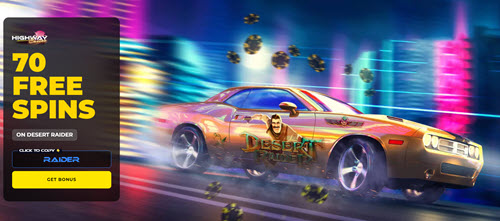 Combining gambling with tales of bounty hunters is always a great idea since what other environment so effectively evokes the notion of legendary riches and adventure? At the perfect moment, with the 5th Indiana Jones film scheduled for release in 2023, Realtime Gaming has released a game called Desert Raider.
The slot machine we're examining today has everything necessary to be a mainstay in RTG's ever-expanding library of games. With 20 permanent paylines and an algorithm of high volatility, this slot game may take a while to pay out, but the rewards are well worth the wait. If your wager is successful, you'll get a massive payout of 50,000 times your original stake. This is the gambling equivalent of discovering El Dorado. If you want to find out more, keep reading our review of the Desert Raider online slot.
Design and Sounds
For obvious reasons, making a slot machine that lives up to the excitement of the Indiana Jones movies is difficult. Realtime Gaming takes a remarkably sophisticated approach to the challenge at hand by using all the tools at its disposal to create the appropriate atmosphere, including stylized icons, scatters, and wilds; the protagonist alludes to the well-known fictional adventurer without directly copying his likeness, and a delightful beat in the backdrops that aren't stuck on repeat for 15 seconds. Playing even the trial edition of this is much more fun.
Game Rules
A gambler who has never played a slot machine before must know that the wild and scatter symbols are much more valuable than any conventional symbol combination. The book and explorer they represent are compelling cards that may multiply existing combinations by 10x. Scatters are very potent since they increase payouts and launch bonus rounds when at least three are landed simultaneously.
How to Win
In Desert Raider, the morphing icons are just as crucial as the wild and scatter symbols when you're playing for real money. These bad guys are much like the explorers, but their impact is much greater. Yet, they are exclusive to the free spins mode. It's exciting to look for morphs since you never know which symbol will transform into one until the Free spins feature is activated.
Conclusion
Desert Raider is a great slot to play for free or real money, especially if you're looking for something exciting, action-packed, and adventure-filled. It's not like your typical desert-themed slot; players can expect many cool features that keep them entertained every time they spin the reels.
FAQ
How can I find this game on your website?
You can visit the lobby and look at the new slots page. For about a month, we will showcase the game there; after that, you may find it by searching for it or saving it to your favorites.
Is it possible to play for free?
Yes. This slot machine has a practice mode that you can access by clicking the button that shows up when you roll the cursor over the slot's tile.
Will it run on a mobile device?
Sure. You can play Desert Raider slots on our website from your mobile device just as easily as you would on a desktop computer.