The Naughty List Slot Review (Best RTG Slots)
Are you naughty or nice?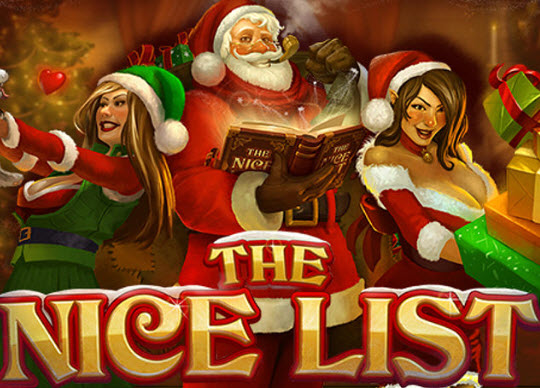 In the sequel to The Naughty List, you have some more racy animations featuring and Santa's helpers, still skimpily dressed, just there to help.
The Nice List is the game that follows the Naughty List. It was released in 2015 by RealTime Gaming. Let the name not fool you. This game is just as naughty as the first. You still have the two naughty girls wearing racy clothing. They are not only there as Santa's eye candy but also give you great payouts.
This game has 50 paylines on 5 reels. You have diverse bonuses on this game. There is one that would lead you to unwrap presents. These ones would earn you expanding wilds, extra wilds and free spins. Two other bonus features await you.
When you see the background of this game, you could mistake it for a typical Christmas themed game. You will see a beautiful Christmas tree to your left, and stockings hung over a fireplace on your right. Other things present are warm wine, snow, garlands, Holly, and a cute dog and cat.
The whole effect gives off some Thomas Kinkade give. And the Christmas music that is played throughout the games just adds to whole effect.
But you will soon be shocked because the animations are anything but the typical holiday animations.
One of the animations depicts a woman who has presents in her hands. One of the present falls. She moves so as not to let the present drop to the floor, and as she does this, her breasts move almost obscenely.
There is another animation. This one actually looks innocent. A woman whose Christmas gift is a puppy. But her up and down movements definitely take the innocence out of it, as these movements expose more of her cleavage in her low cut top.
The last animation is one of Santa laughing and in his hand, a sack of presents.
For us the animations don't make the game R rated. But if you were expecting a standard Christmas themed slot, then better change your mind.
Another thing we think we should mention is the fact that the Nice List is an All Ways Pay slot. Which means you can get paid from any direction, be it left to right or right to left.
Best RTG Casinos