Diamond Dazzle Slot Review Rival 
Diamond Dazzle Slot is an online slot machine with Rival Gaming as its software developer. It is made up of three reels and a bet line. The minimum bet is 0.01 coins and the maximum bet is thirty coins.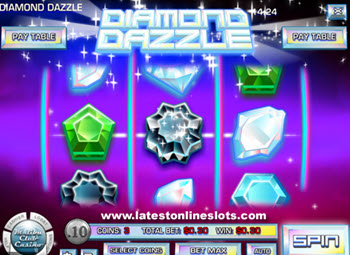 About Diamond Dazzle Slot
Some of the time players prefer playing a slot game that is dazzling and at the same time enjoy themselves. This has been made possible with the development of a slot game that live true to its name and it is called Diamond Dazzle Slot. Rival gaming is the developer of the game that is made up of three wheel and one bet line. From the title of the slot it is obvious that diamond will be involved in anything that happens. There more gems that are also costly that are available. The symbol of highest cash out on the paytable is the black diamond which is also a scatter. This is a diamond that cannot be seen easily unlike the other two types of diamond. Players will have the opportunity to receive up to one thousand and five hundred coins. Another diamond available is the one of white colour with which the players can receive up to six hundred coins. Like earlier stated there are more gems that are also costly apart from diamonds and they entails emerald with pentagon shape, sapphire with hexagon shape, and a ruby in form of triangle. Obtaining the rubies can give the players about four hundred and fifty coins. For more information about the slot game you can check the site.
Betting Options and Paytable
A lot of players prefer playing slot that provide its players with a lot of bonus option whereas some go for simplicity. It is a slot game that is simple and can be played at anywhere. There is an option that allow players to automatically spin the wheel whereas enjoying themselves. The soundtrack of the slot is also fantastic and it is not hard to understand. Even if you are new to this kind of game you will not come across any trouble. The slot is made up of a bet line and the players have the right select how much they want to stake on it. The option of coin available include one, two, or three. The coin values are between 0.01 coins to ten coins. It implies that the least amount that can be used to stake is 0.01 coins whereas thirty coins is the highest amount. The game is made up of fantastic graphics and designs. There are lot of games that have the same theme but from different software provider. However, Diamond Dazzle Slot game from rival gaming has turned out to be a fantastic game. There are lot of opportunities provided for players to win massively while playing this game. Some of the options include the availability of free spins, wilds, and scatter.